3 longhouse residents suing police for abuse of power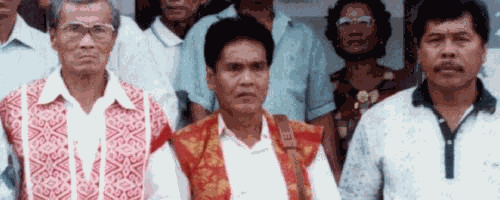 From left: Ungkok, TR. Riggie and Gengga
MIRI, (20 February 2002) - The Session Court here began hearing the trial of 3 Iban longhouse residents from Rumah Riggie, Sungai Nat, Tinjar, Baram who are suing a Deputy Superintendent of Police (DSP) for abusing his powers for wrongful arrest, false imprisonment and malicious prosecution.
The headman, Tuai Rumah Riggie anak Belulok (63) and two of his longhouse residents, Ungkok anak Antau (80) and Gengga anak Timbang (47), the Plaintiffs, filed the civil suit at the Miri Session Court thus naming the Chief of Police for Marudi District, DSP Frederick Liso Senap and the Government of Malaysia as the First and Second Defendant respectively.
The trio were arrested and detained for a week in 1997 allegedly for offence of criminal intimidation after they protested against one oil palm company, Nation Mark Sdn. Bhd. which bulldozed their customary land after the company was given a provisional lease by the government over their said customary land
The first witness to be called to the dock was Tuai Rumah Riggie. As his counsel questioned him, he told the Court that he was arrested and detained by the police on 17 April, 1997 as he was about to lodge a police report.
He said that on the morning of 17 April, 1997 his villagers told him that his farm hut (langkau umai) and a few other farm huts belonging to his villagers were burnt and destroyed. Their property and crops were also damaged.
Tuai Rumah Riggie told the Court that he suspected that the workers of the plantation company were responsible for the damages. He therefore went with Ungkok to Beluru Bazaar to lodge a police report at the police station there. On arrival at the police station, a police constable on duty refused to accept their report and told them to go to Lapok Bazaar to look for Sergeant (Sgnt.) Jahawi. Without hesitation, Tuai Rumah Riggie and Ungkok went to Lapok Bazaar to look for Sgnt. Jahawi.
On arrival at Lapok Bazaar at around 2.50 p.m., both of them stumble into Gengga. According to Tuai Rumah Riggie, while chatting with Gengga, he saw DSP Frederick Liso and two other police officers calling on them. He described DSP Frederick and the two others were not in their police uniform.
Tuai Rumah Riggie explained that the three of them approached DSP Frederick. He said DSP Frederick asked the three of them to follow him back to Beluru Police Station to negotiate. Initially, they refused but after some persuasion from DSP Frederick they agreed.
On arrival at the Beluru Police Station, Tuai Rumah Riggie said that they were told to wait outside. After some time, a police officer came out with two sets of handcuffs and proceeded to handcuff them. When he asked why they were handcuff, the police officer just said that DSP Frederick ordered him.
Later on, they were brought to Miri Central Police Station. On arrival, they were told to strip off their clothing and wear nothing else except their underwear. Tuai Rumah Riggie said that they were not given any food or drink that night. Two of his villagers complained of having aches and pains and requested the guard on duty to give them some medicines, but was denied by the guard.
Tuai Rumah Riggie told the Court that they were detained in the police lockup for 7 days and because of their refusal to sign the bond to keep the peace they were imprisoned at Lambir Prison for another 10 days. He only knew of his charges when he was brought in front of the Magistrate on 19 April 1997, that is 3 days after their arrest.
On 3 May, 1997, Tuai Rumah Riggie and his two villagers were released from Lambir Prison with bail and were told to sign the bond.
On answering his counsel question on how he felt after being arrested, Tuai Rumah Riggie told the Court that because he is the headman, his position is now being scrutinised by not only the Government officers but also his own community. He felt embarrassed by the arrest.
The Plaintiffs were represented by M.S. Sandhu, while the Deputy Public Prosecutor, Robert Pasang Alam represented the Defendants.
The Court has fixed 30 April, 2002 as the next date of the hearing. - BRIMAS