Source: Malaysiakini
For a voice the Orang Asli can call their own
Yap Mun Ching
10:11am Sat Aug 31st, 2002
For a people widely acknowledged to be the earliest inhabitants of Malaysia, the Orang Asli have been greatly short-changed by historical circumstance.
Based on official statistics, 80.8 percent of the Orang Asli were living below the poverty line as late as 1997.
At least 50 percent of their students have dropped out of primary school annually for the past 30 years.
And despite their economic and spiritual dependence on land, current laws on Orang Asli affairs do not give them legal right of ownership to ancestral lands.
Another telling fact is that, 45 years after Independence, the Orang Asli community remains unrepresented by its own leaders. A single Orang Asli has been appointed to the upper house of Parliament — the senator being chosen by the government-of-the-day, not by the community.
Over the past decade, though, moves by the Orang Asli to claim their rights have gradually been gaining momentum.
A new party
The Peninsular Malaysia Orang Asli Association (POASM), an organisation that was once threatened with de-listing because it organised too few activities, today boasts up to 20,000 members.
Deputy president Arif Embing (pic) says a drive has been underway since 1999 for a Orang Asli Party to be registered with the Registrar of Societies.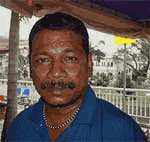 "They have rejected our application twice. We were told that it was because we did not have a complete set of rules and regulations. But we are making progress on this," he says.
In the 1999 general election, an Orang Asli candidate contested a seat for the first time. Norya Abas, a POASM member, ran as an independent candidate for the state seat of Jelai, Pahang, a constituency where 38.8 percent of voters are Orang Asli.
Although he garnered a mere 6 percent of the votes, and had to forfeit the RM5,000 deposit because of the low vote count, the experience was nonetheless important in indicating levels of political awareness.
"At the time, we did not expect to make a lot of inroads. Our intention was simply to raise the awareness of Orang Asli on the need for our own representative in government," recalls Arif.
"Our campaign was also to serve as a reminder to Barisan Nasional that the Orang Asli must be given more attention in future."
Easy targets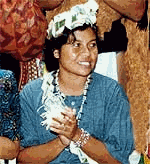 Tijah Yok Chopil (pic), vice-president of the Indigenous Peoples Network of Malaysia (JOAS), says although the candidate found little electoral support, the event marked the start of Orang Asli involvement in politics.
"Our progress will not be quick because most Orang Asli, especially those living in rural areas, have little understanding of politics," she says.
Tijah says their unfamiliarity with politics may leave them easy targets for politicians wishing to influence them against voting for their own representatives.
For instance, she says, during the 1999 general election, certain quarters played up ethnic differences between the Orang Asli sub-groups in an attempt to create discord within the community.
"It cannot be denied that each sub-group is distinct (from the others). Apart from their geographical link, different communities also have different ways to defend members of their group," Tijah explains.
"However, when we communicate with each other, we refer to ourselves as Orang Asli, and not by our (respective) ethnic sub-groups."
Arif believes that another crucial step for the Orang Asli community has to be a change in mind-set to realise the significance of their voting power.
"It has been ingrained into the Orang Asli to vote for Barisan Nasional. This is because they worry that if they vote for smaller parties, they might end up in poorer circumstances — such as (obtaining) fewer schools or hospitals," he says.
Another reason, adds Tijah, could be that most Orang Asli are not exposed to the options open to them when it comes to voting.
"Some are not aware even how many parties there are in the country. Because of this, people tend to choose those they already know. Since the Orang Asli are most often in contact with people from the government, they vote for politicians with the ruling coalition," she says.
Lack of consultation
The gradual growth in political awareness is being seen most clearly in the often tense relationship between the Orang Asli and the Orang Asli Affairs Department (JHEOA) — the department set up to look after the community's welfare.
"More and more people are beginning to see weaknesses in the JHEOA. When officials go into the villages to carry out certain activities, not all are pleased. Some may simply agree because they have no other choice," says Tijah.
A key concern about the work of the JHEOA is the lack of consultation when it comes to policy-making on matters that affect Orang Asli customs. One example is on the power awarded to the department under the Aboriginal Peoples Act to appoint or dismiss village headmen.
"Some villagers are concerned because the JHEOA has told them to select a penghulu who is educated, literate and young," Tijah says.
This goes against the tradition of selecting a penghulu based on seniority, knowledge of Orang Asli customs, reputation for fairness, and ability to represent the interests of villagers, Tijah says.
Low representation
To build greater understanding of Orang Asli needs within the department, community leaders have urged for more proportional representation of Orang Asli within the JHEOA.
JHEOA director-general Yahya Awang concedes that much more can be done in this respect.
"At the moment, we have about 1,200 staff at our headquarters and state offices. Of these, 35 percent are Orang Asli," he says.
"We have one or two junior officers at the executive level, but we are trying to bring in more Orang Asli representatives who are qualified at the professional and management levels."
Yahya also discloses that more efforts are being made to increase consultation via dialogues with POASM leaders.
"We held a meeting with the POASM just a month ago. We invited them to throw in ideas as we need their input as well," he says.
For example, says Yahya, the POASM set up a Graduates' Club through which Orang Asli graduates will provide tuition to students and give them pointers on examination preparations. The department supported the move.
'Conditions' for political activism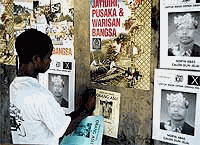 As to the official view on increased political activism by Orang Asli groups, Yahya says the government does not intend to stop the people from becoming involved in politics.
"This is a democratic country. Nobody will be stopped from being involved in politics so long as it is not against the government and in line with the laws," he says ingenuously.
Whether or not this basic right of citizenship will be upheld remains to be seen. If things go according to plan, the Orang Asli will test it once again in the next general election.